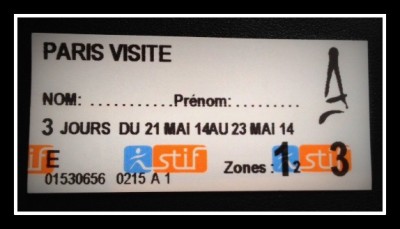 |
Bonjour Tout le monde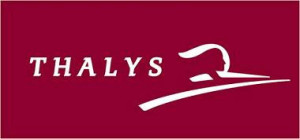 I started off my trip to Paris from Cologne, Germany. I booked a 3 hours train ride, Thalys. It was a "first class" section of the train. Thalys has become European dependent train going across Europe in the countries like German, France, the Netherlands and Austria. I enjoyed the train as much as the food! It was breakfast time when I left Cologne. I started my first croissant in Munich and this is going to my second one.
First class section is located in the very front compartment of the train. You will have a bigger restroom. Larger leg room and a huge seat. I think it is a bit bigger than a economy seat on the plane. When you book this train, book it from its website. You will get a cheaper price by surprise! Book ahead of time for seat selection and secured. The price is going up as days get closer to your departure. First class offers a free wifi and the connection was good. The view from Cologne to Paris was very pretty.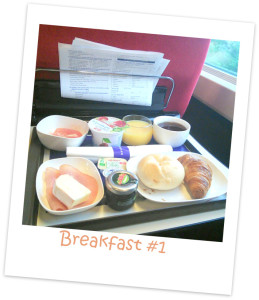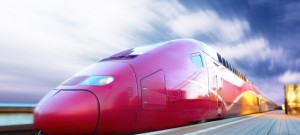 So I would recommend this service train for your Europe trip! But France offers TGV as well. Thayls is considered a premium type of train though. I think you will enjoy the cleanliness and sweet service on the train.
|
Arriving at Gare du Nord
If you catch a train like me and your destination is Glare Du Nord, you will find this information useful.
1. Do you need to deposit your luggage like I did? I have to pack light for 3 nights in Paris. So I found the luggage deposit comes in handy.
2. Do you enjoy Metro or Underground or Subway? If yes, you will find Glare du Nord very convenient to access those.
3. I love beautiful architecture and great food, Glare Du Nord has it all. Their train station is very pretty and clean.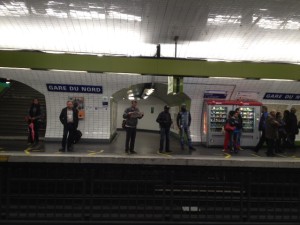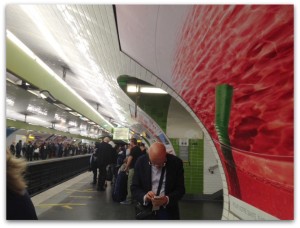 So, once you get off the train, head to platform # 3. Look pass the sign of the platform, then you will see a big yellow sign for Luggage deposit. Take that escalator downstairs and immediately to your right you will find a security scan with two staff inside the fence. Walk in it.
Have your luggage scanned here and get your coins ready. Don't have coins? don't worry, they have a coin vending machine. Now look for an empty locker. There are different sizes and you might wanna think modify! Can your luggage lay flat instead of straight up? if yes, you might find a smaller locker which is cheaper for your luggage.
Read the instruction and follow it strictly. Do not lose that receipt! It has your unlock code on it.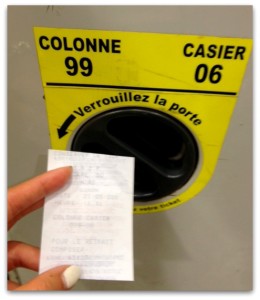 The price has changed over the year. Make sure you understand that price per day or hours. As for me, I asked the staff and she said "put the coins in for the first 24 hours and then the day that you will leave, you will add the rest of the value for 2 additional days" Ha! no problems (said to myself).
I then got all my coins changed from the spot for 2 extra days. It was cheap but I knew it would help me from not carrying a 50 pounds luggage walking up 7 flights of stairs in Paris!!
Remember! the receipt from the locker is very important.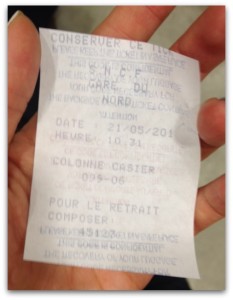 The code on the receipt is the code to unlock it when you need to open your locker.
When I came back 2 days later, it was just the matter of putting the code and the locker was opened! I didn't have to add anymore coins??!!
Anyway, this luggage storage opens at 6:15 AM, so if you need your belongings before that, you will have to wait. If your train leaves Paris very early like mine 7:30 AM, You will have to spare sometimes to get your luggage out and probably reorganize before your departure.


|
Notre Dame Cathedral
It was a rainy week in Europe when I arrived Paris. I waited 20 minutes and got out of my apartment. My first mission was to see whatever closest to me because the unpredictable rain. Notre Dame it is!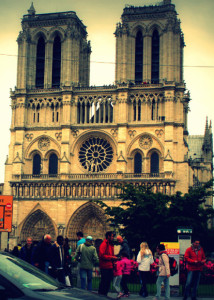 It was grey and a bit chili everywhere I went. But Notre Dame sits right along the Seine river, so gorgeous. I kept on walking and taking photos. It was a nice relaxing walk but the beauty of the scene made me overwhelmed.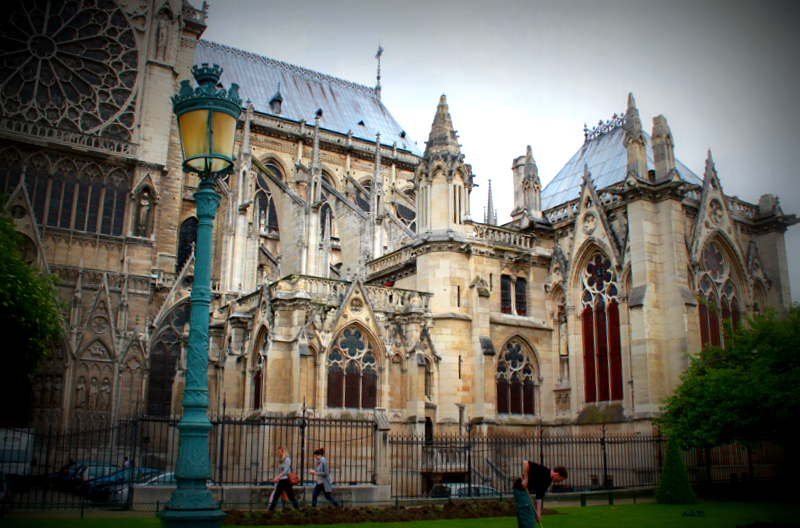 Then I walked up the bridge of promise.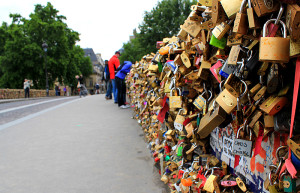 It is a lot of love on the bridge. Imagined if only the sky was blue. I turned around and looked back at the cathedral once more. Taking it in at this point.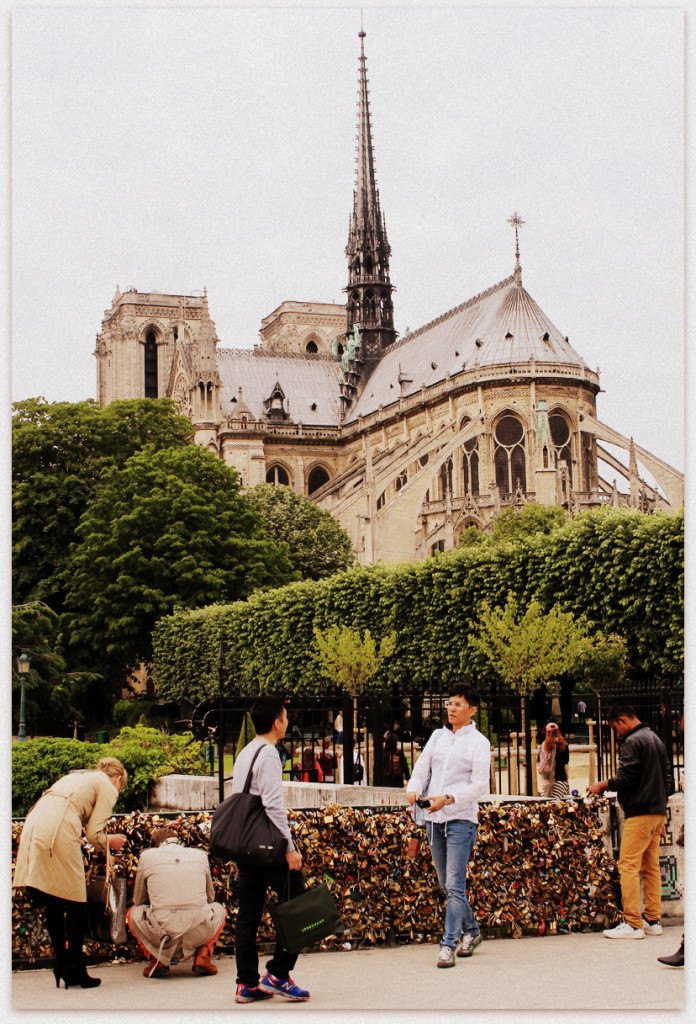 The history and the architect on this cathedral was beyond beauty. It made Seine river looks prettier by default.
I then walked around the river, looked at the Parisian living their normal lives. I always wonder, if they ever stopped and looked at their city and said "Am I lucky or what?".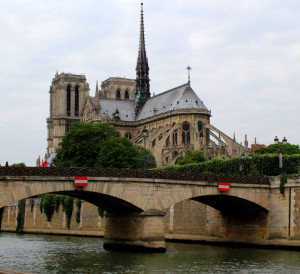 I started to ask myself, "Do I have enough time in Paris?". This thought was a spike, I walked faster and took more photos. Hurry before it rains.
I felt like I couldn't walk fast enough. Everything was very big and as far as I could see. Paris at the moment was a challenge to me. Being there solo was awesome but somehow confused. I needed to do better on my homework for my next visit to Paris.
Any who, it was my destiny and I had to keep going.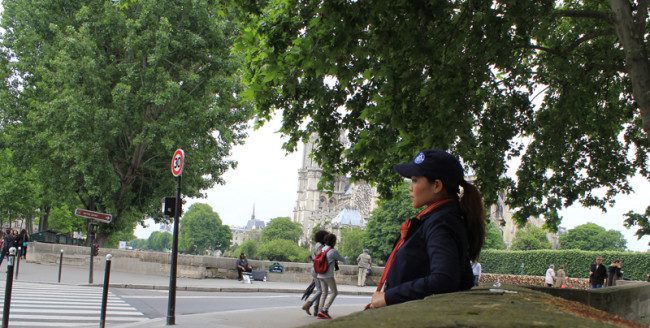 |
Master the Metro
Getting around Paris was one of my favorite. My little knowledge of French got a refresh button. I got a help of google Nexus along with a useful Metro app on my iphone. Carrying a tablet and an iphone seemed much to me.
I bought myself a 3 days public transportation pass. It is a tiny ticket that let me get on and off their metro train and buses with no limited. Now that was convenient. I also love how they have all metro maps clearly pointed out where you are and what line you're looking for. Easy tip is: if it's a circle with filled in background, it is a subway. M is for Metro then the number is the line that gets you there. Sometimes you will have to get yourself to a connection but it is very easy and inside the subway train is a map and station alert on speakers.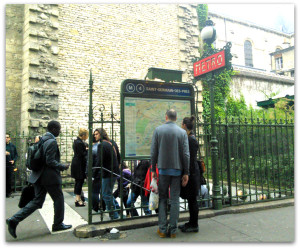 Bus rides are fun too!
I had to see the city within 3 days. I found that riding buses is quick and cheap. I can jump off and check out the place I wanted to see. I can take Metro back to my apartment anytime.
Below: Views from the bus rides
Below: views from my bus ride in Paris
I noticed one important thing while on the buses in Paris. Every time there is a senior on the bus, his card that he swipes will trigger a voice machine. Guess what? That voice machine lets people know that there is a senior, please be kind!! Let me know if I'm wrong.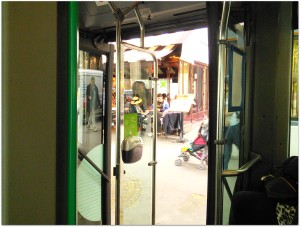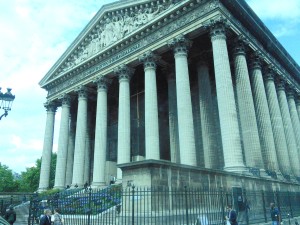 I just took my tablet and took photos with it! How fun. I saved my map on Google map while I was online at the hotel, and then use it as off line map when I walk in the Paris city!
Solo in Paris continue page Solo in Paris part II
Visit other cities with me