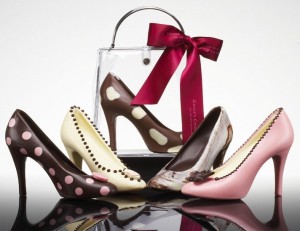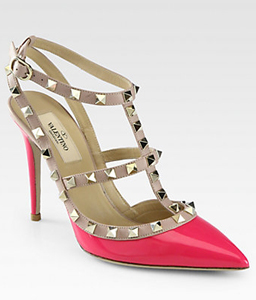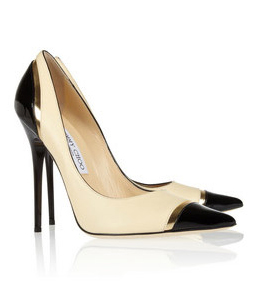 Left: Valentino Stud shoes
Right: Jimmy Choo pointy toes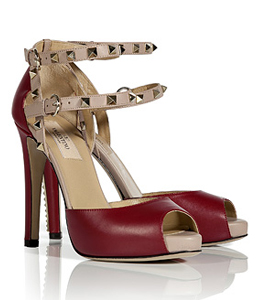 My only fear about shoes is, they don't feel as good as they look 🙂 Especially those designers label shoes. Hmmm. I would like to spend $800 on a pair of shoes that will hurt my feet while I'm in them. I've been there and still is. I have some pairs that will not let me walk in them. But guess what? They are too cute to be given away.
So, let's say if you really love shoes and you don't want to hurt your wallet but still get that look on your feet (and the pain). I got some good news. Most girls already figure this out, Ivanka's shoes !! yes, Trump's daughter. She is classy just like I want to be. Her shoes are nice too. Check these out. Right: Ivanka Stud shoes in red.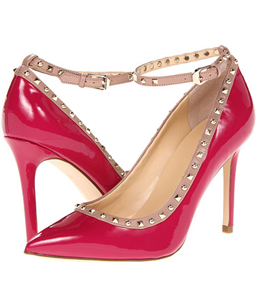 So I found out as I browsed through cyber space that Ivanka offers classy looking shoes with lower tag price. Most of her shoes are similar to Jimmy Choo, and Valentino. I have not tired any of her shoes but very tempting. www.6pm.com is where I found most of her shoes collection. 
Along with many other celebrities fashion collection, Jessica Simpson has one of the most largest fashion selections. Her clothing line has been around for a while but it was not as recognized. I do found her clothes come in handy in TJ Maax and Marshall. Her shoes are made in China with sassy look to them.
Left: Ivanka pointy toes in beige and black. Right: Ivanka stud shoes in beige.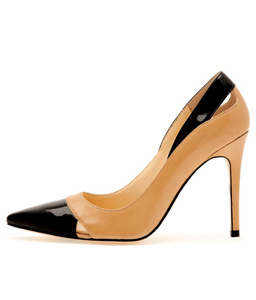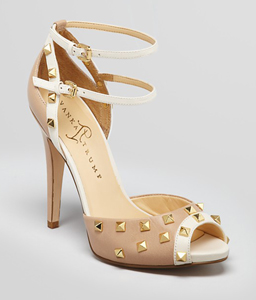 I think there are always products for our budget. I can go cheap on shoes but high end on purses or vice versa. To me, we can always look exquisite as long as we know what look great on us. Our inner beauty also provides great effect on how we look to others. So, walk with confidence and stride on the side walk on the way to work!
What do you do when you see a catching heels like this, on a pair of shoes?
For me? I got an impulse buy 🙂 These are from SamElderman and they are not for wide feet like mine. The sole was very comfy but the toes area are pretty tight. I couldn't return them because it was final sale from GILT. Here is the online purchase lesson, don't purchase shoes if they are on a final sale because if they don't fit, you are stuck with them.
So size 7.5 is too narrow for me. Thanks Sam!