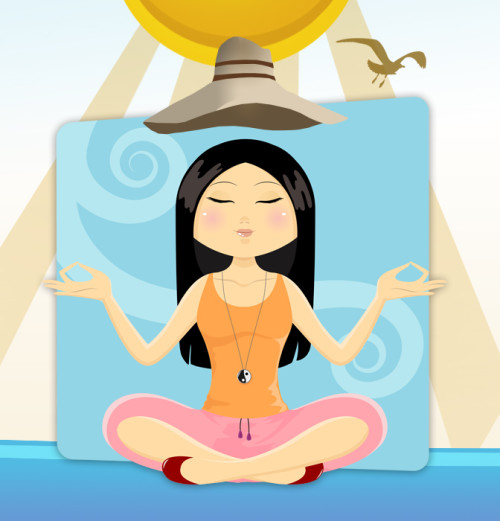 Ever wonder why Asians age so well? Personally, I think it is our genetics and how we take care of our skin while in the sun.
Traditionally, Asians believe in lighter complexion because it represents a higher class. Asians who were born tan or darker brown, represent a working class. That being said, many Asian girls prevent their skin from being exposed to the sun. They will wear a hat, usually one with big wide wings. They will put on the highest SPF digits the market can offer. Asians do not believe in Sun bathing because it will wrinkle the skin and those freckles are their enemies. While Western cultures fundamentally believe that the darker toned skin is more desirable, some of the concepts for skin care apply to both.
I experimented a few skin regiments myself. Starting at home, Yogurt, cucumbers, and room temperature water are my best friends.
After being outside all day (even when we were in the shades), I would come home and clean my face, put  pure yogurt all over my face and cucumbers on my eye lids. This simple home remedy has been my routine since I was 10.
Asian girls go crazy over this topic. Here are a few things we find are true in all cases
Use  SK II. This is a product that came out the Japan, and was discovered by accident. Workers at the factory regularly had their hands immersed in sake brewery buckets. They discovered their hands remained moist well-nourished without showing any sign of age.
Estee Lauder's Idealist Pore Minimizing is second to none. It is a great serum, only many of us start using it too early in life. This serum is best for women as they reach their late 30's
We also love masking, mud masks, white mud masks, clean masks and overnight masks. The nightly routine facial treatment is always a must for Asian women.

Sun and UVA & UVB!
These are three names that we can't joke around with. Many of Asian girls spend a fortune to have their dark spots removed. The sun-damaged skin is not acceptable in this culture. Many products in Japan and Korea offer skin whitening!  Skin whitening lotion can be used but it makes the skin layer much thinner. This lotion can be used but must be used alongside heavy sunscreen to protect the thinner layer of skin. For this reason alone, we recommend a great moisturizer with high SPF combination for all skin types!
Clinique, Shiseido and Shu Uemura have been in the market for so long that many of their products are so well known around the globe.
Strong Sun Exposure!
Have you seen Asian women on a beach? They cover their hair with a big scarf, and top it with a big hat. No, we aren't afraid of it, but the sun can be more invasive in a beach climate than in day-to-day life. Always wear sun glasses because crows feet are not your Christmas list. Long sleeve shirt and a pair of linen crops.
For me, I love sun bathing. I think being tan is so sexy and healthy looking. I can get tan quickly and it will last me a while. When I was young I had few repercussions about extended skin exposure to sun. Now, in my mid 30's I use more caution when it comes to browning up!  15 minutes of hard sun exposure is really all that is needed in many cases.  Through trial and error, I have found out what works for my skin type. Of course, everyone's skin is different, but here are some tips I have found to be helpful:
Use SPF 30 or higher for my face. I always re apply sun screen every 30 minutes, so I don't need to use SPF 80. I have found my new favorite sunscreen though, Vichy SPF 60. It goes on nicely but it feels oily when applying. I don't mind it, as long as it does the job.
A hat and a wash cloth! I will never, ever let my face expose directly to the Sun. It is harmful and I can see signs of aging on many forehead's of those who love to have their face naked out in the sun. I put on a hat, wet my wash cloth with drinking water and I lay it on the hat brim when I lay flat in my beach chair. You will be surprised how quickly that wash cloth will dry! Imagine this moisture was taken from your skin. Only your skin, elasticity is also lost!
I apply sunscreen on my body, in one direction only! Crazy right? I don't rub it back and forth on my arms, legs and body. An old family tip is that sunscreen absorbs best when applied in one direction.
After a dip in the pool, I dry myself, apply body lotion, sunscreen  or tanning lotion in that order! I do use sun tan lotion, so I need to keep my body skin moist at all times. Water naturally takes lotion from your sunscreen, so dry your body before you put another layer on top!
Sun bathing on my back. You know that lower back area where it can get sweat and you always feel heating burn while getting your back tanned? Well, if you don't get rid of your sweat and re apply your sunscreen, you can get a second degree burn by letting the sun directly harm your skin. This was a tip handed to me by my dermatologist.
Put a leave-in conditioner on my hair while sun bathing. Hair is part of our skin, so I always protect it from being so dry.
Drink tons of water. I do not drink alcohol while sun bathing. The sun is already dehydrating our skin; drinking water will help balance the water we lose through sweat.
|
Want to protect and repair skin?
Age and sun damage are difficult to voided. Besides sun screen and moisturizer, there are many helpful skincare that repair damaged skin as well. Skin repair products are in a high competition, which helps consumers like us to explore the best options. Check out great selection below:
Hope your summer is going great and please feel free to share your tips with me. I'll check out some great tips!