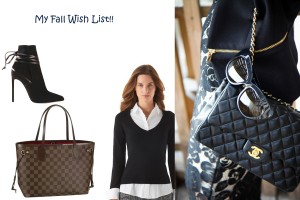 I need these (right?)
Have you ever wondered why people have to create a wish list? My guess is, they can't have their wish right at the second so they are listing them and wish they will get there.
So let's see here. I wish for a tote bag with a coated canvas in brown color. I would love to have a classic shoulder bag for a special occasion. Booties are also a must for Fall and love them in BLACK! And last but not least, work outfit. Yes, they are necessary. I love clothes that are practical for what I do.
So, here you are, all of my wish. I'm going to reveal it to you later whether my wish came true or not. Fingers crossed (me).