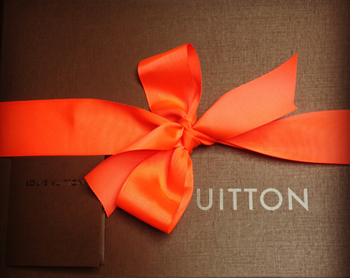 A Small clutch that fits my essentials.
When I looked for a nice thin clutch which has plenty of room to fit my wallet and my phone and probably a lipstick, I went with LV, Favorite PM clutch. I've watched so many Youtube videos about clutches and found that most girls are pleased with Louis Vuitton clutch in general. Eva clutch was the talk of the town and still is. I then decided to take a look at Eva and Favorite PM size.
I have pros and cons for each of the clutch. See what you think?
Eva clutch Pros:
catches an immediate attention with the golden plate in the middle and golden zipper on the top.
It fits my Josephine wallet and my cell phone and a lipstick. It looked amazing with its gold shoulder strap.
Longer in length, good for a long wallet.
Eva Clutch Cons:
The longer strap is too long for my 5.2″ height but that could be fixed.
The height is limited for my agenda PM.
Zipper closure, more chances to break.
Favorite PM Pros:
Taller in height, fits my agenda, my iphone and a small compact.
Flap bag with a strong magnetic closure, fits more essentials if needed.
Comes with shorter shoulder strap, good for petite ladies.
Has an extra small compartment for my iphone.
The gold strap is detachable on one end, easy to be tucked away while using the longer shoulder strap.
Favorite PM Cons:
Shorter in length but fits a thin wallet like Josephine wallet and an iphone just fine.
The golden plate on the front is very easily scratched.
Similarities:
Eva clutch and Favorite PM has almost the same width which fits most of your daily essentials like a lip gloss, a think wallet, an iphone.
Two shoulder straps for a cross body style and an evening like shorter strap.
Very secure closure.
Light weight.
Very similar in price. Eva clutch is a bit cheaper than Favorite PM.
Model shots. Keep in mind that I'm 5.2″.Both clutches fit right where my torso is and it is very comfortable even when filled with essentials. The Eva clutch has a D ring on one end of the zipper where you cannot detach the gold strap but the other end. I love that Eva clutch can be attached to your Neverfull or any bag that has a ring inside. Favorite PM sits perfectly just like Eva and the detachable gold strap is easily hidden when needed. I love the long shoulder strap, looks great as a cross body bag.
Front and back shots for the clutch. Check out the straps, the cow hide is 17.7″ long, great for a cross body bag. The gold strap is fancy enough for a night out.
The clutch also fits perfectly for my essentials. Check out my day time essentials this includes: my agenda in PM size, my small pouch from Josephine wallet, my lip gloss and iphone. Night out essentials, my wallet, iphone, and a lip gloss. I can also fit my compact if I want it to.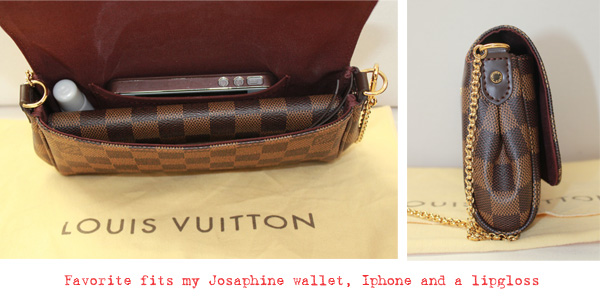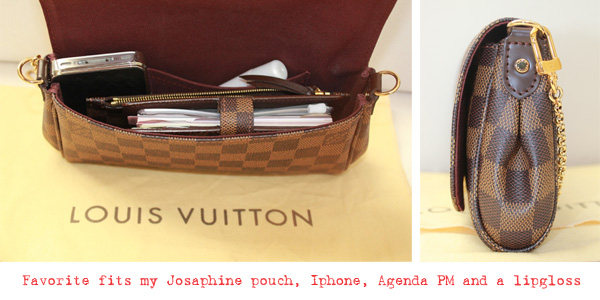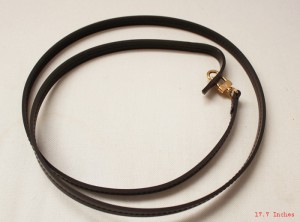 Strap length is perfect for petite size ladies 🙂 It is about 17.7″ full length. Very easy to detach from the bag as well as hook it on. I enjoy this clutch even more just because of this fact.
Drop a comment or any questions if you'd like?
Great source of youtube VDO for LV clutches comparison: http://www.youtube.com/watch?v=Y75GDMXq790
If this clutch is not your style? Check out the following options:
Fendi
 Shoulder bag
Gucci
 canvas accessory pouch