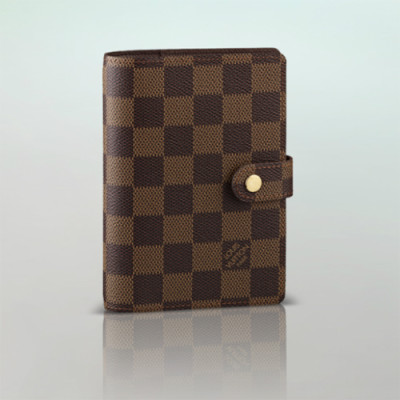 I want to start off with this Japanese style of refills for the agenda in PM size.
When it comes to Japanese stationary, they take it very seriously. Sanrio has been around for as long as I started school. Very cute and playful design and variety options to choose. I happened to find a refill for my agenda on ebay. It comes in all necessary categories. Sanrio provides plenty of fun space for you to write. Most of you know how small Lousi Vuitton agenda is in the PM size. I got my measurement out just to show you the agenda size and the refills size.
If you like to write a lot each day, then this is not a good size for you. I'm not going to do a review on this agenda, I just want to show you what choices of refills you will get besides Louis Vuitton's refills. On the left side of the agenda where the measuring tape is, Filofax to do list. On the right side is Sanrio front cover refills, mine is "My Melody" design. I love this Sanrio choice because those menu tabs are awesome. There are 4 tabs divide each section for you.
Monthly tab gives you an overall year with months in columns and very small dates. Sanrio figured how to fit all in one page. Weekly tab gives a week per one page. This is nicer to write a short code or note for each day. Memo tab is a blag page that you can scratch anything a quick move. Mine has Melody design on it. Address tab gives small space to put name and phone number on. I tried to squeeze my address in but it is just too small. Sanrio also comes with a plastic divider labeled, Today, with a ruler printed on it. This is helpful when you want to know which page you're on. I also enjoy using their cute little stickers, I'm sure they all mean something but I don't understand Japanese, so I just use those on whatever I want.  There is a calendar page which lays out left and right so you can see all 12 months.
I spent about $22-$27 with shipping at the time. The seller on ebay has very limited options as quantity. You will be surprised how fewer the sellers are with this size of agenda. Here is the seller name, "meowmeowmie". There are some other designs on her stock but I'm not sure how many she has available nowadays.
Next refills I want to mention is from Filofax. They did not have a full 2014 planner at the time that I was looking for refills. But I got some useful pages from Filofax for sure.  There are  To do list, Financial planner, Cards holder envelop, Zipper envelop, a page divider, and a big envelop. These extra sleeves fit the 6 rings Louis Vuitton agenda just fine. I like all of them because I can carry my other cards that I only use occasionally.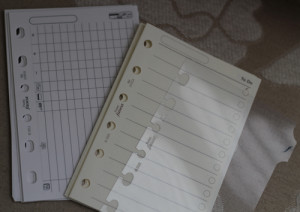 Filofax look and design gear towards a professional user. They come in different back ground tone, my to do list has a cotton yellow tone to it. I think it relaxes my eyes versus white. I love the financial pages because it gives just enough space to write the number but it organizes your thoughts of expense. The page divider is a bit too thin and narrow to me. I barely notice that it's in my agenda. I love the zipper pouch even though it is small but I feels safe to put some cards in it.
I got the card holder envelop which has 4 pockets in one sleeve. Very convenient and I like that I can see through the other side.  You can find great review on the agenda itself and refills on youtube as well. I just want to break it down for you and what I think about them. Hope you find this helpful.