|
One palette that has it all
Ladies!  I was on a hunt for a nice eye shadows palette which contains fun colors, build able high pigmentation and long lasting.
Well, I read and read and research and I found this Kat Von D palette at Sephora. Buying it without a doubt due to many great reviews on the shadows. I even Youtube research as well. Let's take a look at the products first.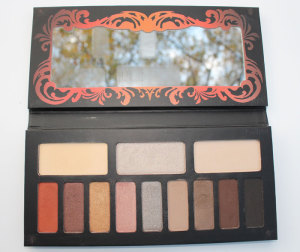 Here it is guys! There are 9 fun eye colors. Those are fun colors and absolutely smokey eye friendly. The big 3 pans on the top row are the eye base color! They give you extra base because you'd use those colors very often.
I have tried all of these and here is what I think:
1. The pigmentation is very high so a little bit goes a long way.
2. Each color is very distingtive so it is fun to play with more than 3 colors on one eye.
3. It is build able with the right brush.
4. Those base colors are very generous of Katvon.
5. I think they fall out too much during application. I feel like using Naked 1 and 2 all over again.
6. It doesn't give me a wow when I first applied them, they just have that Naked quality and I do have 2 palettes of eye shadows that I do not touch.
Here are names for each eye shadows.